Mainfranken Fair 2019
The Mainfranken fair in Würzburg on the Würzburger Talavera is one of the most visited regional fairs in Bavaria. The event will be presented as the most important forum for information and shopping in the region of Mainfranken. Numerous domestic and foreign exhibitors from various sectors such as trade, craft, industry and the service ecoonomy invited for shopping and informed about their range of services. overall the organizers welcomed on the 9 days of the fair, from 30. September to 08. October 2019, about 650 exhibitors and 103200 visitors on the Mainfranken fair in Würzburg. The Mainfranken fair takes place biennially, and thus for the 66th time previsibly in October 2021 in Würzburg.
Like many other associations of the city of Würzburg, IAW e.V. was invited to this event for the Saturday, 05.10.2019, to be able to exhibit its diverse activities. The Mainfranken fair asked for a good market overview in order to establish personal contact with potential sympathizers of Africa who want to support the activities of the IAW e.V.
At 9 o'clock it started with the construction work. Our stand has been prepared, flyers, various jewelry and African wooden figures placed on it. A presentation was prepared to illustrate the various activities of the IAW on screen.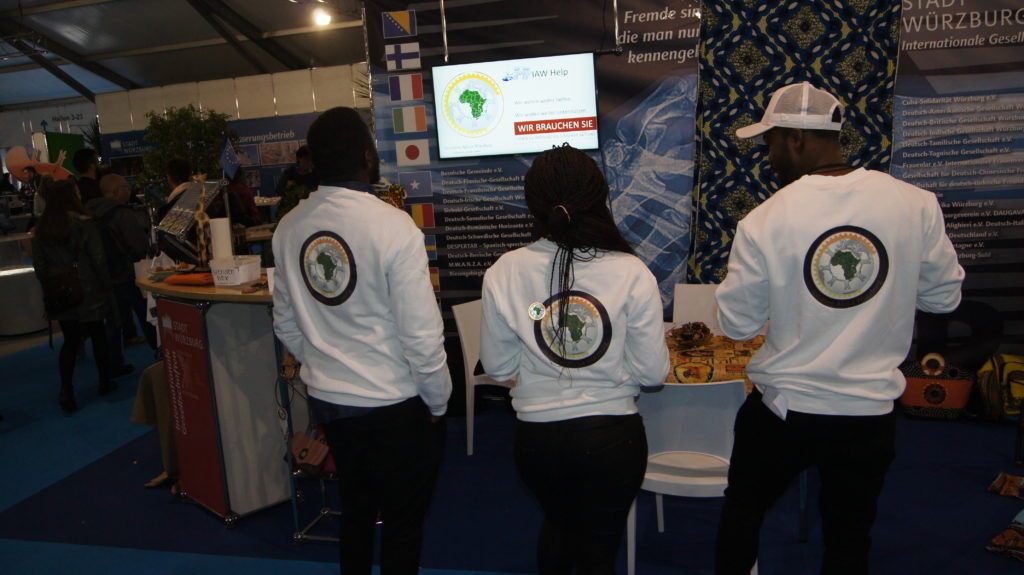 That everyone could show here what he or she considers important was the strength of the Mainfranken fair. So, we took the opportunity to appeal to an audience looking for a chic, diverse, sophisticated and original African fashion. These African clothes are not sold directly at the fair, but if necessary, people can contact us to get them.
We offered Beignets soufflés for the curious, who like to taste new ingredients and specialties from other countries kitchens. It is even more interesting to discover a family recipe from Africa. Beignets soufflés are puffed fat pastries. By frying the dough is like inflated. The result is very fluffy and soft.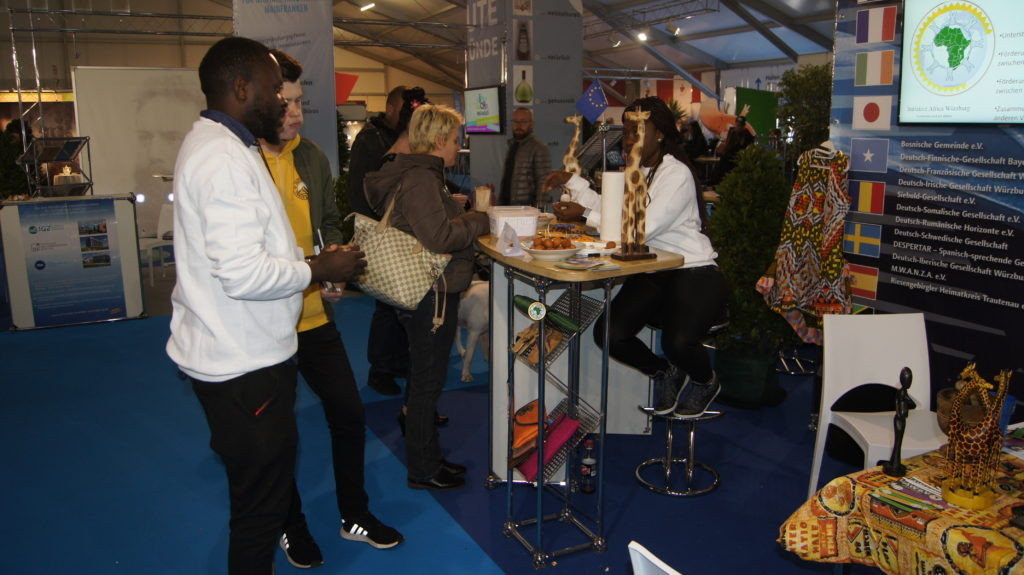 We had received many visitors from all corners of Germany and told them about the various activities of IAW e.V. We took the opportunity to distribute our flyer and membership forms, trying to gain new supporters. We would like to thank not only the city of Würzburg for inviting and trusting our association, but also all those who made sure that the event was a success for us as well as the visitors to our stand. We are looking forward to the next Mainfranken fair 2021.