Spring International and Europe Day 2019
On Sunday, 12.05.2019, the European City of Würzburg organised the "Spring International & Europe Day". From 11:00 to 17:30 the International Societies of Würzburg as well as European clubs presented themselves on a tour through the Landesgartenschaupark 1990 below the fortress. The mayor opened the event at 13 o'clock with a greeting and then it really started.

Among the 22 international societies that took part this year, IAW e.V. for the first time had (Initiative Africa Würzburg), which did not leave the participants indifferent with its enticing program. The programme included various performances of West African dance, Massai dance and traditional music with drums. In the course of the day, various African fashion accessories were presented.
The West African Dance
IAW e.V. has prepared a very beautiful choreography, which was presented to the mayor and visitors directly after the opening of the event. Movements from Sabar in Senegal, Manon in Ivory Coast, Adjogbo in Benin, Bikutsi in Cameroon and others were also part of the choreography
The dancers took the visitors so completely with them through their performance that they demanded more. "I had never seen such difficult movements with such good synchronisation" said one visitor.
The Maasai dance
There was also something beautiful presented. The dancers presented the traditional dance of the Maasai people from Kenya. This dance is used as a Maasai ritual before they go hunting, so they can be more easily connected to nature. It is a dance with which men compete, who can jump highest on both feet.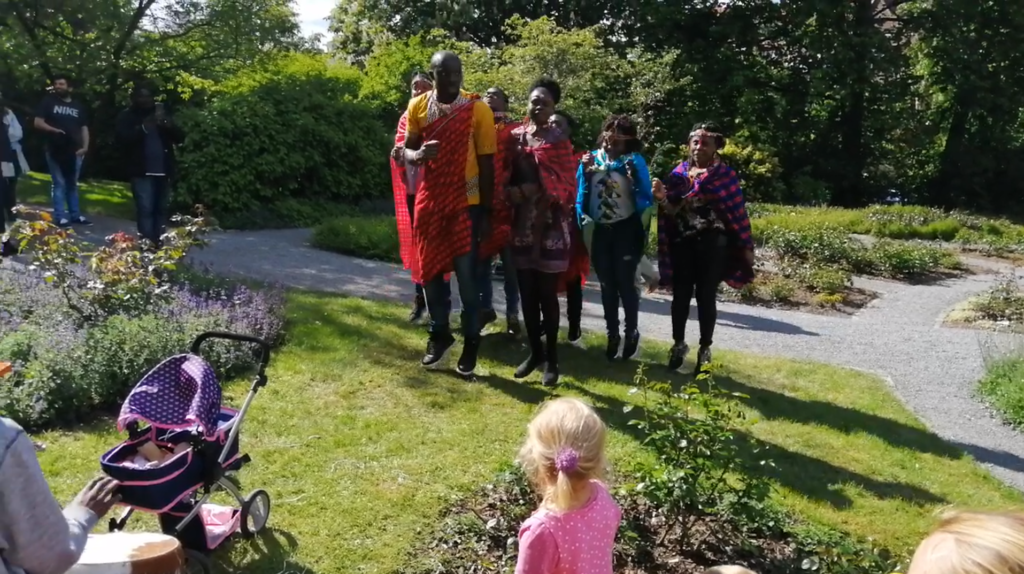 Not everyone jumped on both feet but our Massai warriors had a lot of fun anyway.
The traditional music with drum
This part of the programme was the most fun, both for the drummers and for the visitors, because they could also play and try out for themselves. Many children have experienced a part of the most important African culture: the music and the rhythms.
Parents and children could learn to play, which was both instructive and fun.
The representation of African fashion
If you speak of Africa without mentioning its clothing diversit, you are completely wrong. In addition to the music and the dance, the African dress code was presented at our stand during the day. Wonderful jewellery, shiny handbags and royal BouBous were in the program.
The IAW e.V. sold well itself for its first participation at the Spring International and aroused a lot of interest. The aim of its representatives on this day was mainly to promote the association. One can say that it was a success because many people took information and membership forms with them. IAW e.V. is already looking forward to next spring International.