Day of the African diaspora in Germany
Saturday 14.04.2018 was the day of the African diaspora in Germany. To this end, was proposed and organized by IAW e.V., a conference in the premises of KHG (Katholische Hochschul Gemeinde).
Our speaker and guest is a writer, historiographer, documentary filmmaker, lecturer and Globe-trotter, Mr Nysymb Lascony is a multidisciplinary researcher who travels the world with his camera to deliver information. In search of historical truths, his many investigations make him one of the few specialists to have built a large library of images on the black world, containing a large number of pieces and hours of films.
This conference with its big themes (the African Diaspora and Pan-Africanism) was very interesting and informative for all Africans and friends of Africa. With a mainly African but rather diversified public, it was a lecture very rich in lessons where Mr Nysymb Lascony gives us his vision of Black Africa, past, present and future.
It started at 10am and ended at 6pm with a break of one hour, during which the organization made some delicacies available to participants. It was also an opportunity for the participants to discuss the theme of the first part.
The contribution of the historical Diaspora in Pan-Africanism
In the first part of his talk, Mr Lascony makes us understand that it is essential for Africans to first know their history if they want to have a chance to build a better future. Because it is important to know the fights and challenges that our predecessors have led on the continent, to avoid making the same mistakes. He took the example of Ethiopia, which has NEVER been colonized, to demonstrate that Africa is not destined to remain a colony.
The contribution of the Diaspora in the emergence of Africa
In the 2nd part of this debate, he wanted to open the eyes of the participants on the responsibilities of the diaspora in the emergence of Africa. Africa has enormous potential, be it geographically, its natural resources or its youth to name just a few. It is time for Africa in general, but especially its diaspora in particular to become aware of it and wake up.
Pan-Africanism means for our speaker, the political and economic unity of all African States and the Caribbean. And for that to be possible, he militates for the abolition mentally and physically, as well as the repeal of the borders that were bequeathed to us by colonization. For Mr. Lascony, a Pan-Africanist must always have a sense of brotherhood towards all his fellow Africans, no matter their African origins.
It was a long day, but very informative. It ended on an interactive Q & A session.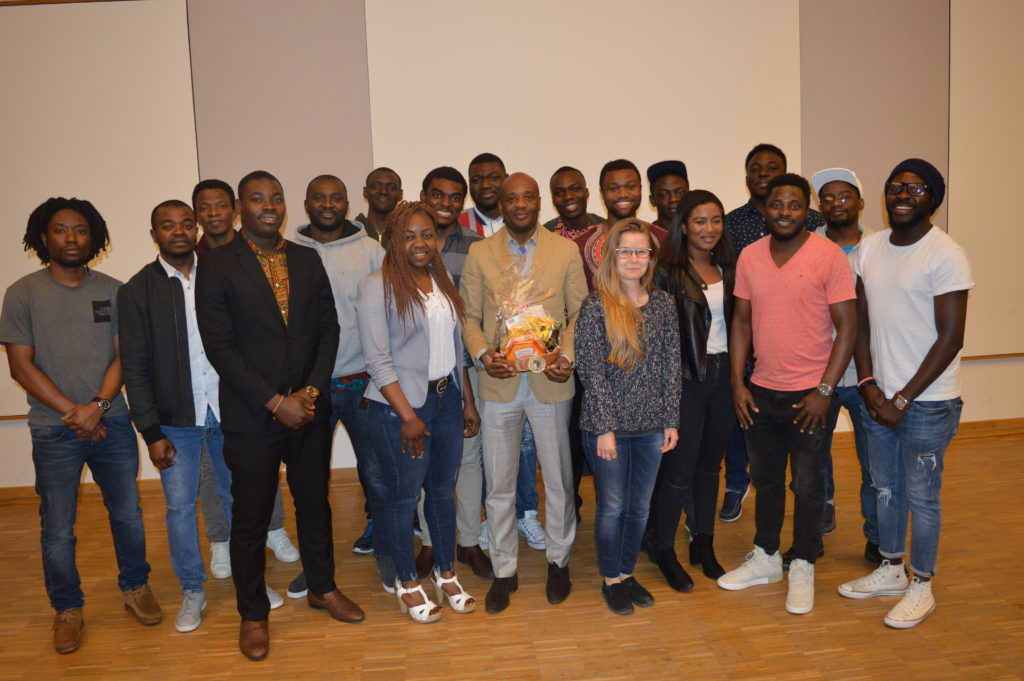 The Board and the entire association IAW e.V. very much like to thank Mr. Lascony Nysymb for his availability, despite his many occupations, but also and especially for the quality and relevance of the content of the conference that he presented.